Swimming Elephant kit
More Information
WHAT'S INCLUDED
Why you will love Paint By Numbers
Perfect For Beginners - Match the numbers on the canvas with the corresponding labeled numbers on the paint. It is easy to follow and suitable for all artistic abilities. 
Relax - Take your mind off stress and anxieties. Research shows that creative activities like coloring and painting help reduce stress.
DIY Home Decoration - Create your own wall art, add a frame to your painting so you can hang it on your wall.
Fantastic Bonding Activity - Grab a wine and spend a night in with family or friends to create your own beautiful piece of art to share.
The Perfect Gift - This makes for a thoughtful gift for anyone who enjoys crafts.
How it works
The container and canvas are marked with corresponding numbers.
Paint the container number (14) to the corresponding number (14) on the canvas.

Apply all the paint with the corresponding numbers on the canvas until complete

Once all the paint is applied, your painting will be complete.

Setting Up
Choose a comfortable chair and surroundings, with plenty of space and light.
A small container of water and a cloth is required to wash and dry paints between colours.
Make sure your paintbrush is dry before dipping it into the paint pots.
Helpful Tips  
Start with the smallest areas, then work your way up to medium then large.
Paint the whole of one colour first, don't stop and start.
Be sure to let the paint dry between colours to avoid any smudging
There should be no gaps between colours.
Take a picture of your blank canvas, it helps with small areas that can be painted over by mistake.
Paint Plot Paint By Numbers kit
In addition to your canvas, you will also receive a full set of acrylic paint and paint brushes. You can also purchase a framing kit for an additional cost.
A complete acrylic based paint-set, with all the colors you need

3 different paint brushes for wide and narrow areas

*Optional Frame - Add an optional frame to your Canvas.

Specifications
Canvas Size: 16" x 20" / 40 x 50cm
Canvas Material: Linen Canvas
Paint Type: Acrylic
Frame Material: Timber
||shipping_location||
Free Shipping: Free domestic shipping on orders over ||free_shipping_amount||!


Processing Time: All orders leave our warehouse within 48 hours on business days.


Shipping Time Estimates: 
||shipping_times_table||
Please keep in mind delivery times listed above are our best estimate.
Tracking: You will receive a shipping confirmation with a tracking number as soon as your order has been sent out.
Returns: Simple Returns up to 30 days from when you received your item.
Money Back Guarantee: We offer an easy, hassle-free 30-day money back return policy.
For complete details, read our Returns policy.
Please contact us at support@paintplot.com.au with any questions.
Key Features
Beginner friendly
Calming & relaxing
Grow your creative knowledge
Highest quality canvas
30 day money back guarantee
Customer Reviews
Write a Review
Ask a Question
08/31/2020
Marcie M.

US
This was my first ever
This was my first ever PBN and we loved it! My son and I worked on it together (he did the really big parts). It was a great way to unwind from the grind of virtual teaching and when we're done we have a masterpiece that WE made together! My teen also got involved and we ended up ordering 4 more! Well worth the money the kits are high quality, unique, and a simply wonderful addition to our family activities and when finished our home!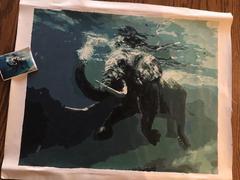 08/06/2020
Jody C.

AU
Love it..
Am only just getting to paint my first one, it's not finished yet but I love it and it's coming along nicely.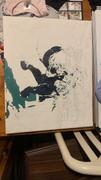 10/21/2019
Victoria M.

US
I am addicted to paint
I am addicted to paint plot! My elephant came out superb! I can not wait until I order another picture to paint. I'll be at work and say to myself, "I can't wait to get home to paint!" I already posted the paintings on fb's paint plot page. Thank you so much for this great, new hobby!